This is a part of our Creative Partner Spotlight: Quarantine Edition series, where we show you what our creative partners from all around the Bay Area have been up to during quarantine. Today, we're checking in with Patricio Angulo of Oyé Productions!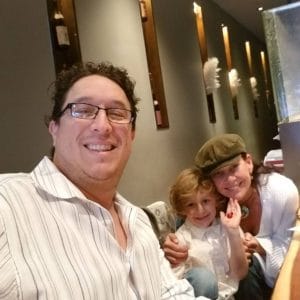 What has been your favorite part about quarantine? All the family time!
What has been your least favorite part about quarantine? All work cancelled for the foreseeable future, and the poorly executed SBA/EDD disaster of a system for financial aid.
How have you been spending your time? A mix of family time, major yard work (fallen tree and building a veggie garden), and re-hauling the office and music room. For the latter, I'm making it video friendly with pro audio gear and starting to build a recording music studio!
What are your favorite local restaurants to order take out from? We've been enjoying all home cooked meals!
What have you been binge watching? American Horror Story and Schitt's Creek. Highly recommend both!
What are you looking forward to most when all of this is over? Playing live music for audiences- I miss it desperately!
Have you celebrated a birthday or event during quarantine? How did you do it? Not yet! Our birthdays are September through November, so we'll see…hopefully we will be back to celebrating in person by then!
Have you learned any new skills during quarantine? Turning my black thumb into a green one! Once my studio is more functional, I will learn more about being a legit recording engineer. My other plan is to also start some major video editing work. Lots to keep busy with!