Colored lighting is one of the best ways to elevate your wedding. It can set the mood for your ceremony, and help transition your teary-eyed guests to the reception for a time of intimacy and fun! 
Whether you choose gobos, uplights, spotlights, or other elements, colored lighting will complement the decor, making it feel more luxurious and well planned around your venue. But, when it comes to colored lighting, there is such a thing as too much. Less is more!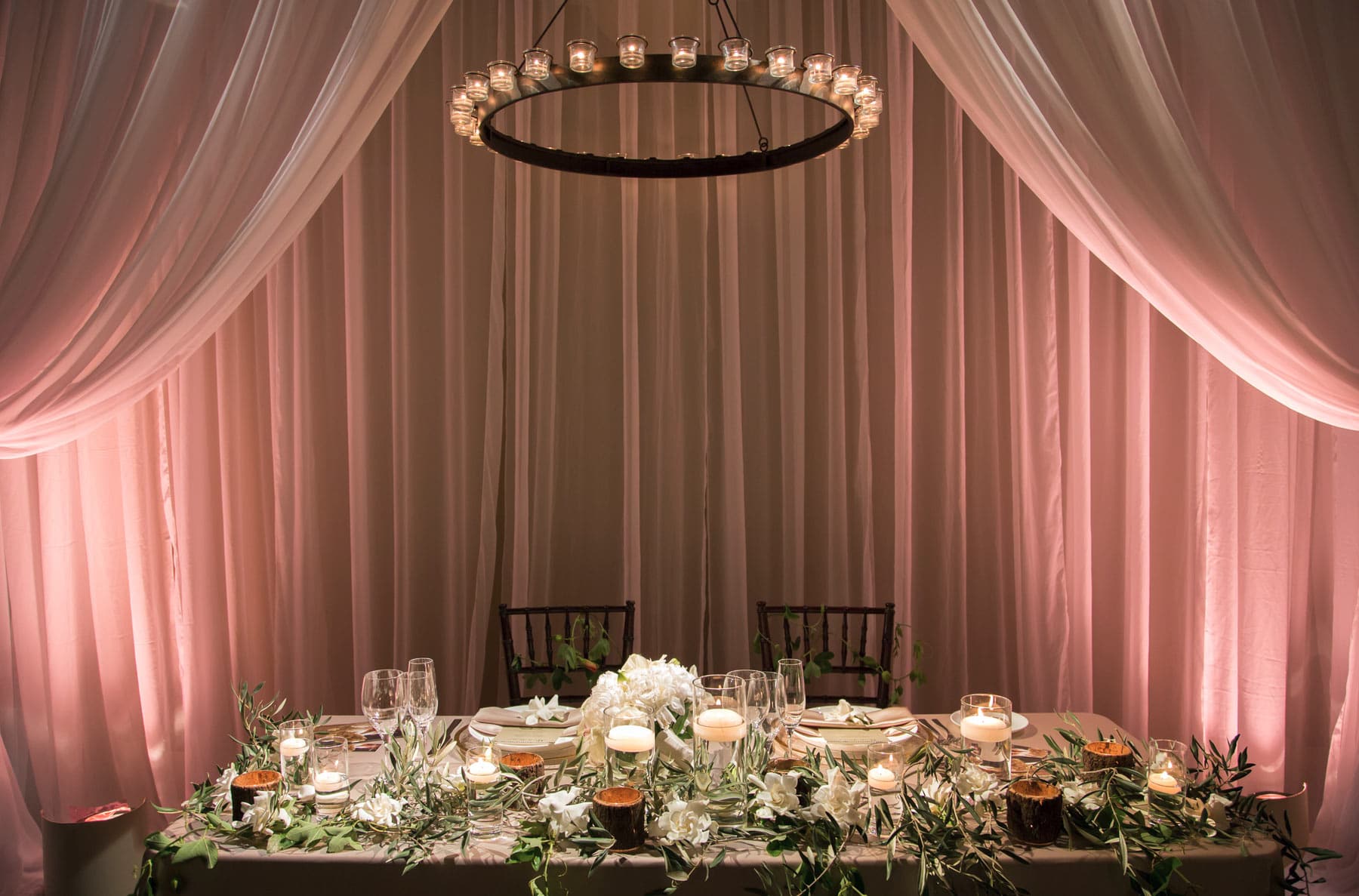 Why choose colored lighting for your wedding?
Choosing a lighting design that meshes with your color palette adds dimension to your event and ties everything together with a neat bow. It has a way of highlighting your wedding space and amping up the dramatic effect — perfect for wowing your guests! #JawDrop
When picking your go-to shades, there are a few ways to play around with them. Say your color palette is pink and white. You can have fun with those colors in your lighting design as-is, or you can select hues that complement them — like champagne, gold, or even a bold shade of raspberry.
Before making your final choice, be sure to consider your venue's existing lighting during the time of day for your event. Speak to your lighting and A/V team to confirm that your desired look will be possible given the setting. For example, it might be hard to achieve a deep, intimate feel in a space with floor-to-ceiling windows for a midday brunch! 
Evening events can typically accommodate all of your lighting expectations, with colored effects creating a natural ambiance that is perfect for soft and moody photos. 
What to avoid with colored lighting
We're big fans of color. Everybody appreciates the splendor of a big and bold rainbow. But when it comes to your wedding, there is such a thing as too much!
Avoid going overboard with colors — both in the numbers of shades you choose and in the number of areas you use them. Overdoing it with color or mismatching your shades can spoil your perfect design. 
Don't be afraid to experiment with color, but that's not an excuse to go rogue! Form your vision and take it to your lighting professional — they will be ready to help you bring it to life without going too far.
How to get your lighting design right
So, how do you get your lighting just right? Keep it simple! Using soft, matchable colors like champagne, blush, and amber, ensures that you can mesh them beautifully with any color palette. On the other hand, try to avoid the louder colors of the rainbow, like orange or red, which can make the space feel too busy. 
And, of course, hiring a professional lighting company is the best way to ensure your vision comes to life with the taste and elegance you deserve! There's no need to compromise your dream, so let the experts take over and accent the right areas with the right hues to make a statement.
At the end of the day, colored lighting is all about enhancing the venue's aesthetic and tying it into your wedding theme. If you are going to look perfect on your big day, shouldn't your venue do the same? Go ahead and add the color — but be mindful of how it fits in with your design. Like everything else in life, balance is key!