This is a part of our Creative Partner Spotlight: Quarantine Edition series, where we show you what our creative partners from all around the Bay Area have been up to during quarantine. Today, we're checking in with Jennifer Franklin of The Club at Ruby Hill! 
What has been your favorite part about quarantine? Spending more time with my family on weekends has been great. So many weekends are spent at events that this recharge is much needed.
What has been your least favorite part about quarantine? Not being able to come and go places as I please. With a crazy work schedule due to events, I try to find pockets of time. This has been the hardest because I enjoy outdoor hikes and beaches and many places are closed or are risky. Staying safe is top priority for me, my family, and for others.
How have you been spending your time? Soaking up webinars to stay better informed and continued education in the event industry. My favorite thus far has been from Rachel Sheerin, cause that girls always brings her A+ game. There was also a great one on Venues hosted by WeddingPro, which spoke specifically to my arena of expertise. Even with 20 years in the industry I can say nothing like this has rocked us so hard for what the new norm will be, so I want to make sure I am a leader in the pack instead of a follower.
What are your favorite local restaurants to order take out from? As a dining establishment ourselves and offering to go services, I order weekly from The Club at Ruby Hill. It a way to see the team and also support my company who is continuing to support me and also our community with the launch of GrubHub offerings too. The culinary team has a family coursed meal each week for $15-20 per person plus weekly specials on other food and drinks. Camille is our Ah-mazing club relations manager and also makes some fun and wonderful cocktail crafts to go!
What have you been binge watching? I'm really into time period series like The Last Kingdom, The Witcher, Outlander, The White & Spanish Princess. But I am currently fully caught up on all these and not sure what to watch next. I love movies and just watched 1917. It was a little bizarre because I only knew the era and actually watched it on April 6th, which unbeknownst to me was an important date in the film…was the universe telling me something?!
What are you looking forward to most when all of this is over? Reconnecting with clients, vendors, and having a new appreciation for the new sense of normalcy. I know we all want this but the new sense of normalcy is going to be an adjustment for most so I am trying to embrace this and think ahead of how these connections are best for others first then myself.
Have you celebrated a birthday or event during quarantine? How did you do it? Yes, my daughter's half birthday was in April. We always do a small cake and video/sing the Very Merry Unbirthday Song from Alice and Wonderland. This year we did get her some new earrings, and we normally don't do gifts for half birthdays, but why not put a extra smile on her face this year.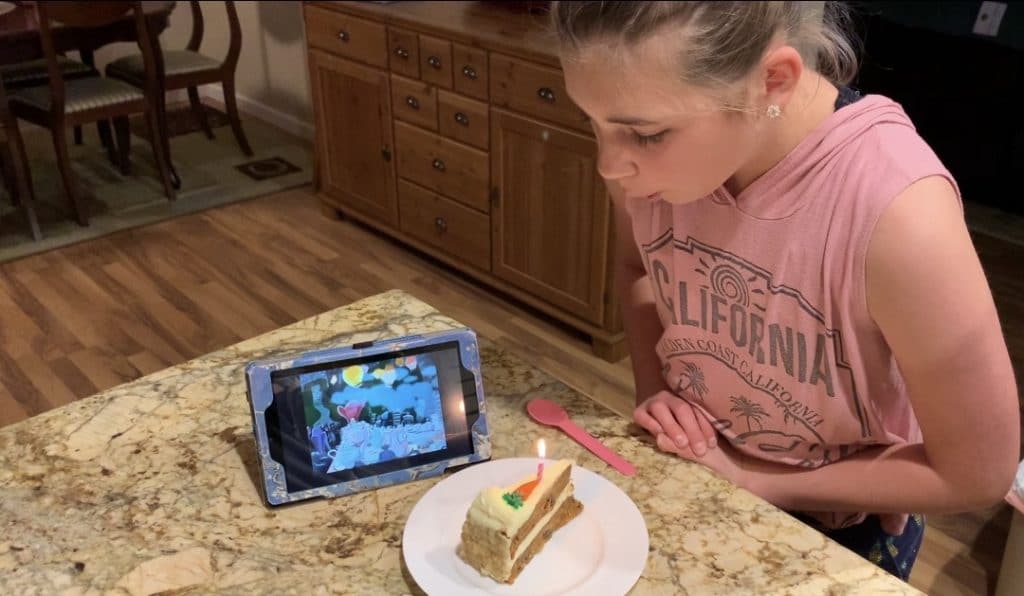 Have you learned any new skills during quarantine? Homeschooling my kids sounds simple enough, but asking a 3rd & 4th grader to go about their day as you and I do is tough. These are uncertain times and little ones have the same concerns we do but they lack the skills fully to express them. I try to spend time with each of them when I'm not on a call or video conference assisting with homework. Patience has been a great skill for this, but I am Italian so don't get me wrong… there are moments!
Is there anything else you'd like to add? I have always enjoyed sharing my expertise with others. There has been a few times I have been a panel speaker or spoken at our own hosted events. This time has me thinking more and more about continuing this path/passion on a small scale and two topics have been on my mind. They keep me up at night, I brainstorm thoughts and phrases and doodle them down. Maybe this time will push me to pursue this with a blog or something. This is not self serving, as I have no interest to turn a profit from it, just to share what so many of my peers have helps me with over my 20 year career to share with others a little light and a few laughs with it. Stay tuned!