12 Questions to Ask Before Signing a DJ Contract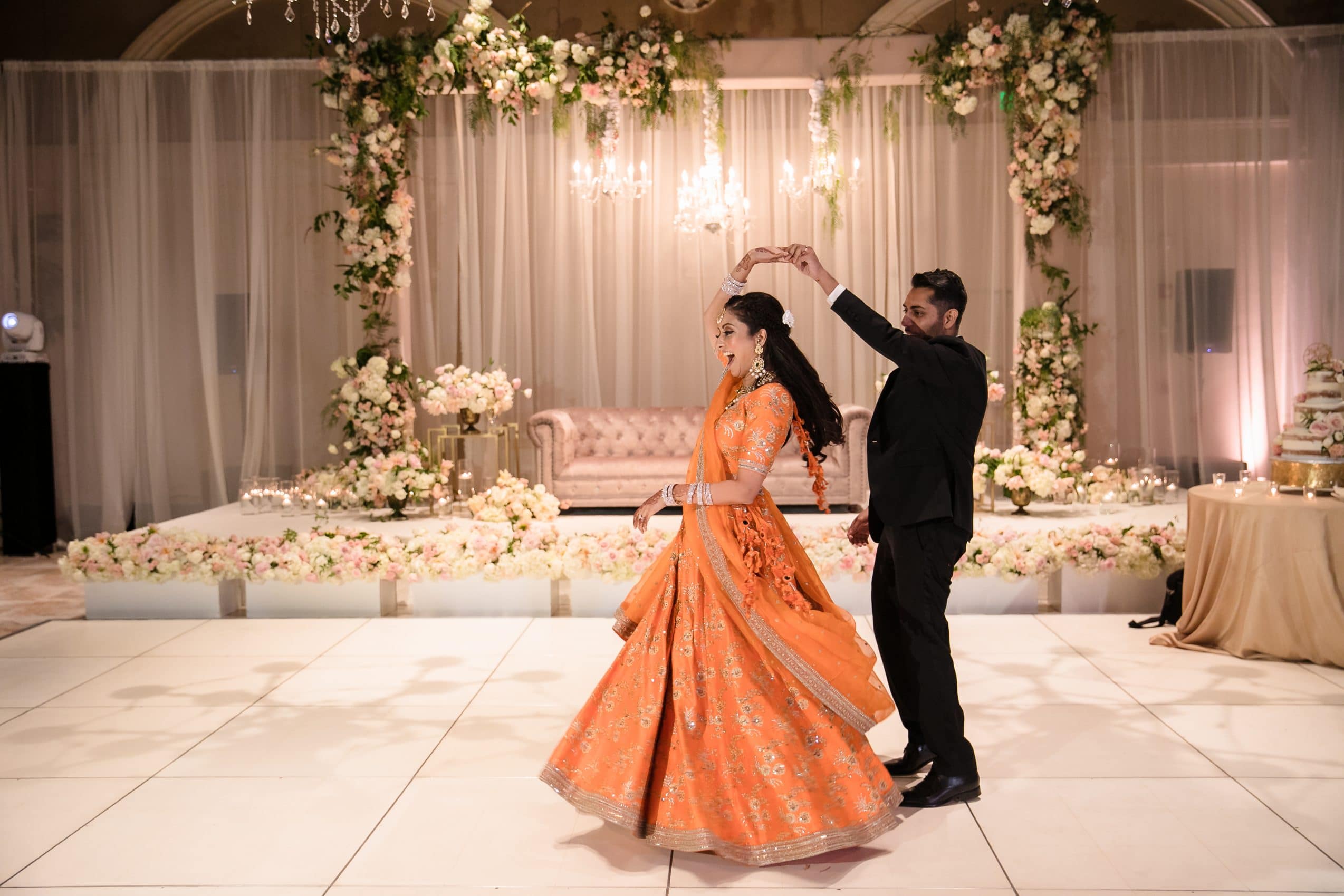 Signing a DJ contract on the dotted line can be intimidating.  Even scarier is when a non-refundable deposit is given and a contract is signed, but a million questions are left unanswered after the "deed" is done.  
That's why it's essential to ask your DJ the right questions to make your big day an unforgettable one. What's better than a killer playlist that has you and all your guests shaking your groove thangs? 
Before we get into the real nitty-gritty questions, do not disregard the obvious ones either.  Be sure to fully understand the full rate, a breakdown of what the package includes, and their cancellation policy before singing a DJ contract.  This will help you stay within budget and know your rights if your celebration is postponed or canceled. 
Let's get into other questions that will make a world of difference in your big day. On a day where so much is counting on many people, trusting who you hire is a must!
Again: What is their rate, what is covered (in detail), and what do they charge for overtime?
Understanding the services you are paying for will give you peace of mind in an otherwise busy process. A thorough breakdown will help you make the best decision if you are interviewing more than one DJ or weighing out the options of hiring a DJ versus a Band. Also, do not forget to ask for their overtime rate! In some cases, the party does not want to stop and you want to be sure it is affordable.   
Are there any additional fees outside of the rate given?  
Nobody likes hidden fees.  Be sure to ask if they charge for mileage, song requests, or speeches.  The last thing you want is to be surprised by an unexpected charge.  Also, be sure to let them know about the venue's parameters and ask if there are additional fees if the event is canceled.  
How far in advance do they need to be booked?  How often are they booked?
Some DJs are booked out months in advance, which can spoil your well-intentioned plans if you don't book early.  Be sure to ask for specific dates and deadlines to hire the DJ of your choice. You also don't want to book a solo DJ that is consistently overbooked.  Otherwise, you risk their burnout impacting your big day. Instead, consider working with a company with multiple DJs available for booking so you can take your pick. 
Do they have insurance?
Many venues require DJs and other wedding pros to carry their own insurance.  Confirm this information upfront so you can be confident they'll be able to perform on your big day. (Plus, this will protect your investment from any day-of issues that may arise, like no-shows or equipment malfunction.)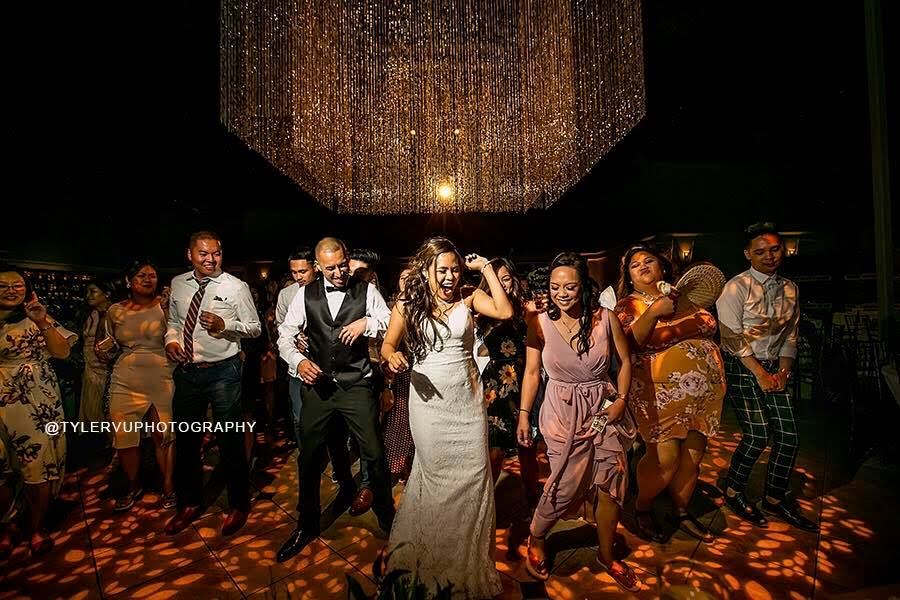 How long have they been DJing at weddings?  Do they have videos or a portfolio of their work?
This question will give you a feel for their level of expertise.  Remember, the DJ is the center of entertainment.  They should know how to read the room to get people on the dance floor and suggest good songs for the first dance or father-daughter dance.  Their tenure will give you a sense of peace that they will make the best of your big day.  Ask them to provide you with videos of their work to get a sense of their style and vibe.
Do they provide any special lighting effects?
It's not 1999 anymore, and strobe lights are out. Fortunately, there are plenty of modern lighting solutions that can set the mood! Will your DJ provide anything, like uplights or neon signage? How do they operate the lights?  What special effects can they provide to match the energy of the dance floor?
Will you meet again before the wedding? When is the deadline for submitting your music requests?
Be sure to close the loop on all outstanding uncertainties. See if they need to do a walkthrough of the venue or if you can provide pictures of where they can set up.  If a certain playlist is going to be made or a specific part of a song needs to be looped, get the deadlines for the deliverables.  The last thing you want is to have your DJ scrambling at the last minute only to find they cannot accommodate your requests.
How much time will they need for setup, soundcheck, and breakdown on the day of the event?
Venues tend to work with strict timelines.  Be sure you are giving your DJ all the time they need to set up properly around the power outlets they will need and provide them with time to fix any issues that may arise.  Also, make sure to give them enough time to break down their equipment at the end of the night.  Time is of the essence and having all the correct information upfront will allow for creating an accurate timeline.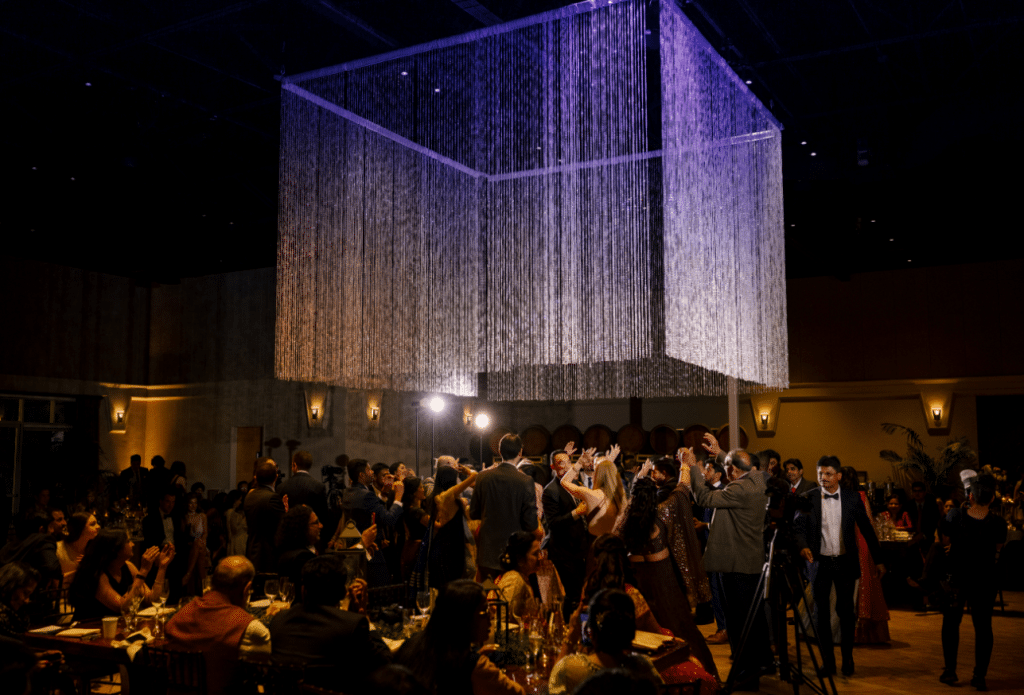 What kind of space or stage do you require for the DJ? If the venue does not provide what is needed, who will make arrangements for the stage? Who is responsible for renting it?
Having this information upfront will prevent any last-minute surprises on your big day.  From a budget point of view, this will also help you know if funds can be allocated to the request and to know if the DJ is hirable or not.
Do they provide wireless mics for the wedding ceremony?
It's 2021 and the minimal, wireless look is in.  But, not everybody works with wireless mics yet, so if you want them, make sure to ask in advance. Think about what will serve you and your partner best for the ceremony, toasts, and other speeches.
Do they have backup equipment like mics, batteries, speakers, and power cords?  Does their equipment require special outlets?  Do special arrangements need to be made?
This is about dotting your I's and crossing your T's.  The last thing you want to worry about on your special day is having people run to the closest store because something is not working correctly.  Make sure the people you are trusting with your wedding are being proactive with a contingency plan in place to have a perfect, seamless day.  
Does your DJ require a meal?
While it is a common courtesy to order vendor meals from your caterer, some event professionals require a meal in their contract. Ask this question to ensure you are ordering the correct amount of food.  You will avoid the awkward eye stares of hunger while everybody else indulges in some delicious food.  Keep in mind that extra meals will accrue a higher catering cost, so be mindful about accounting for these expenses early, so you stay within your budget.  
Your main objective is likely to stay within your budget, but you should also aim to get the best quality for your buck. Asking your DJ (and other event pros!) the right questions will give you peace of mind that things will go smoothly on your big day.  Overall, you want to know that whoever you hire has your best interest at heart.  A DJ can make or break your big day, but with thorough interview questions, you will set yourself up to have the day of your dreams.