Brides Blogging- The Venue Hunt
Today's blog post in our Brides Blogging series comes from Courtney N., who is getting married at Casa Real this November.  Courtney is working with us for Event Lighting, and we are so excited to help turn her vision into a reality! Here she is with her fiancé Travis…aren't they adorable?!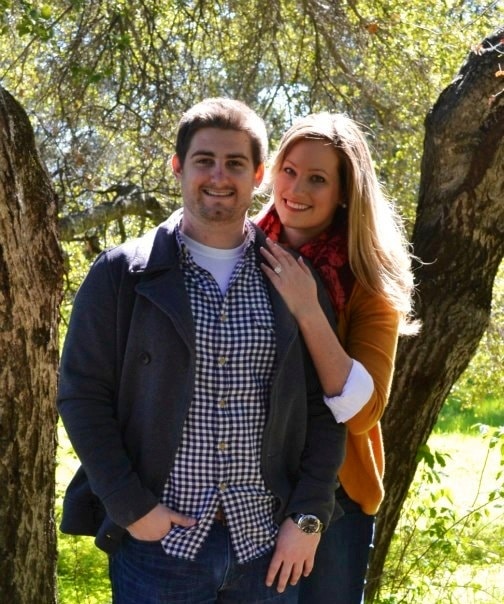 "In today's world of wedding planning, there seems to be one large task that trumps all others on the stress-inducing list: the venue hunt.  What should be an enjoyable and exciting scavenger hunt to find that perfect "I Do" spot can rapidly turn into a wild obstacle course full of unavailable dates, small guest count maximums and more. After watching multiple other brides try to navigate through this tricky situation, I was absolutely determined to make the venue hunt the easiest part of my planning process.  While we may have done things a bit differently, I assure you – it WORKED!  We booked our first choice venue on our first choice date, with little to no stress at all!
My absolute, #1 piece of advice I can give to any bride about the venue hunt – START EARLY.  I'm not talking about starting right when you get engaged; I mean starting even BEFORE you are engaged.  I know, it seems really strange, and it's definitely a weird feeling to be looking at venues and talking to coordinators before that ring is even on your finger…but it's well worth it.  My fiancé Travis and I knew we were headed down the marriage path long before we were engaged, so we started talking about where we imagined our perfect I Dos.  The first thing we did was we narrowed down the basics:  indoor/outdoor?  Church?  Winery? Backyard? And, most importantly: when?  We settled on a 2013 Fall wedding at a winery, and that's when we started researching and looking at websites for recommended venues- The Knot or Here Comes The Guide are great resources.
We actually found our venue (Casa Real at Ruby Hill Winery) because two of our best friends got married there, and even though they got married a YEAR before we even got engaged, we decided to go tour the venue and talk with the coordinators about dates.  We were shocked with what we found – even though we toured in Summer of 2012, many of the Fall Saturdays of 2013 were BOOKED. A year and half in advance!  Luckily, the date we wanted was still available and we didn't hesitate – we booked BEFORE we were engaged!  We didn't tell anyone until we were officially engaged (aside from our parents) and from that point on, it was smooth sailing.  It even allowed us to enjoy our engagement so much more (happened about a month and a half later) because I wasn't worried about jumping into the planning process right away.  Even though we have a year-long engagement, most of the other dates at the venue booked up by the time we were engaged.  This is not specific to Casa Real – many venues (in the Bay Area especially) book up over a year in advance, so starting early is especially important if you're planning a shorter engagement. Here's the best part: regardless of if you're soon-to-be engaged, in a relationship, or even single – it's never too early to keep your eyes open for places you envision your perfect wedding.  Just having a few ideas or making a mental note of a few places will save yourself a lot of hassle when that moment finally comes around.
We're about 8 months out from our wedding date now, and we've got all the big ticket items checked off the list thanks to our early venue find!  There's no better feeling that knowing that not only are you marrying the man of your dreams, but it's all happening at your dream venue, too."