Chris and Marnie's Wedding at Palm Event Center!
Marnie and Chris reached out to us about a week or so before their July 4th wedding at Palm Event Center, wanting to add some lighting to their grey and yellow vintage wedding. We were more than happy to oblige, and their vision for the wedding sounded amazing, and we were excited to be a part of it! Since it was so close to their wedding date, we didn't really get a chance to know Chris and Marnie, but we could tell that they were a fun loving couple, and it seemed like their wedding was going to be one huge party. When we received some photographs from Amber Silva of Love Story Pictures, who is AWESOME by the way, we knew that our first impression of Marnie and Chris was spot on! You can tell that everyone was having a BLAST at their wedding, and the GOBO covered dance floor was packed all night!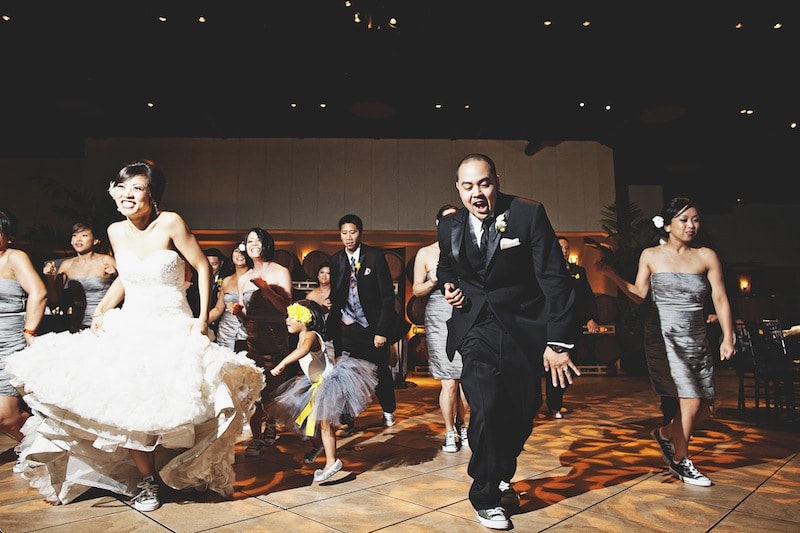 Check out Chris and Marnie's matching Converse shoes! They were owning the dancefloor all night with their guests.
They had a lot of fun with the garter toss, incorporating some Jabbawockeez flair. Chris did a little dance for Marnie, and she was so surprised! We aren't sure if Chris is actually a Jabbawockee….but he sure looks like he could be!
Thank you Marnie and Chris for inviting us to be a part of your special day! We wish the two of you all the best in your future together!