Meet Casey Hahn of Palm Events Center
This is a part of our Creative Collaboration series, where we introduce you to our creative partners from all around the Bay Area. Today, we're introducing you to Casey Hahn from Palm Event Center.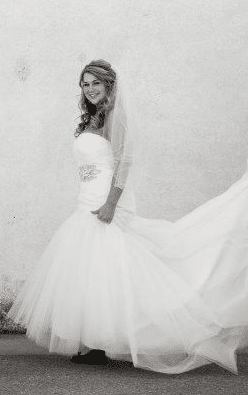 The Palm Event Center in the Vineyard is a beautiful, elegant and rustic wine country property. They feature a dramatic palm tree-lined driveway and gorgeous venue with an intimate Estate Room and expansive ballroom overlooking the vineyards. They feature delicious, wine-friendly cuisine and host primarily weddings and corporate events.
We asked Casey to tell us about what inspired her to pursue a career in weddings and how he got started in the industry.
My love for event planning began in high school where I was in charge of planning Homecoming activities, rallies and events for my peers, and when I started college at Chico State I discovered that they had a nationally accredited Recreation Administration program with an option in Special Event Planning! After college I returned to the Bay Area and started working part-time as a server in the Catering Department at Wente Vineyards, serving at weddings, golf tournaments, concerts and corporate events. My other part-time job was with the City of Dublin Special Events Department where we planned and hosted the St. Patrick's Day Festival and the Day on the Green Festival among other smaller city events. I was then given the opportunity to become an Event/Wedding Coordinator at Wente Vineyards, and then moved into the role of Associate Events Director. After a brief hiatus from weddings during a stint in Corporate Event Planning, I realized that my love and passion for wedding planning was something I could not suppress! Shortly after that I was offered the role as an Event Coordinator with Beets Hospitality Group serving both Casa Real and Palm Event Center, and I've been here ever since!
Casey also shared what her favorite part about being in weddings is.
Being a wedding coordinator does have its stressors, but that is overruled by the pure joy that we see on our Brides & Grooms faces as we get to walk with them through what could be one of the most important days of their lives! One of my favorite moments during a wedding is having that minute with the Bride right before sending her down the aisle; fluffing her train, adjusting her veil, seeing her relish in that moment with whomever is escorting her down the aisle, telling her to take a deep breath and smile…opening the doors, and go! Being with her and supporting her in such an important, pivotal moment makes me feel like I have purpose!
Casey is also sharing the one piece of advice she likes to give couples planning their wedding.
Keep things in perspective and remember to truly enjoy your day! Lots of things can happen, especially with family dynamics, money, and the stressors of planning a huge party for all of the most important people in your life. But really soak in the day as it goes by SO fast! You're doing a lot of planning for only 6 hours of your life, so you have to relax and enjoy it!
Proudly serving Bay Area Weddings for over twenty years, Fantasy Sound aims to be engaged couples' first stop- offering Disc Jockey, Videography, Event Lighting Décor and Wedding Planning services. They are fueled by great ideas paired with strong coffee, and will never turn down a piece of red velvet wedding cake.