Venues: Outdoor vs. Indoor – Which is better?
Planning a wedding is hard.  That's a no-brainer.  All of the emotions and ideas have a way of creating chaos like no other.  This is the event where everything matters — all the big and small details. One of the hardest decisions you'll face is researching venues and selecting the one that will bring your dream wedding to life. 
Should it be indoors with high ceilings, A/C, heat, and soaring windows?  Or, should Mother Nature be the backdrop for your wedding photos and as you stand at the altar and exchange vows?  
With all the pros and cons for both, weighing out potential venues can be difficult.  Luckily, we've compiled a handful of tips to help you make the best decision for your big day.  After all, choosing your venue can feel like half the battle has been won!  (Well, almost.)
Let's get right into things.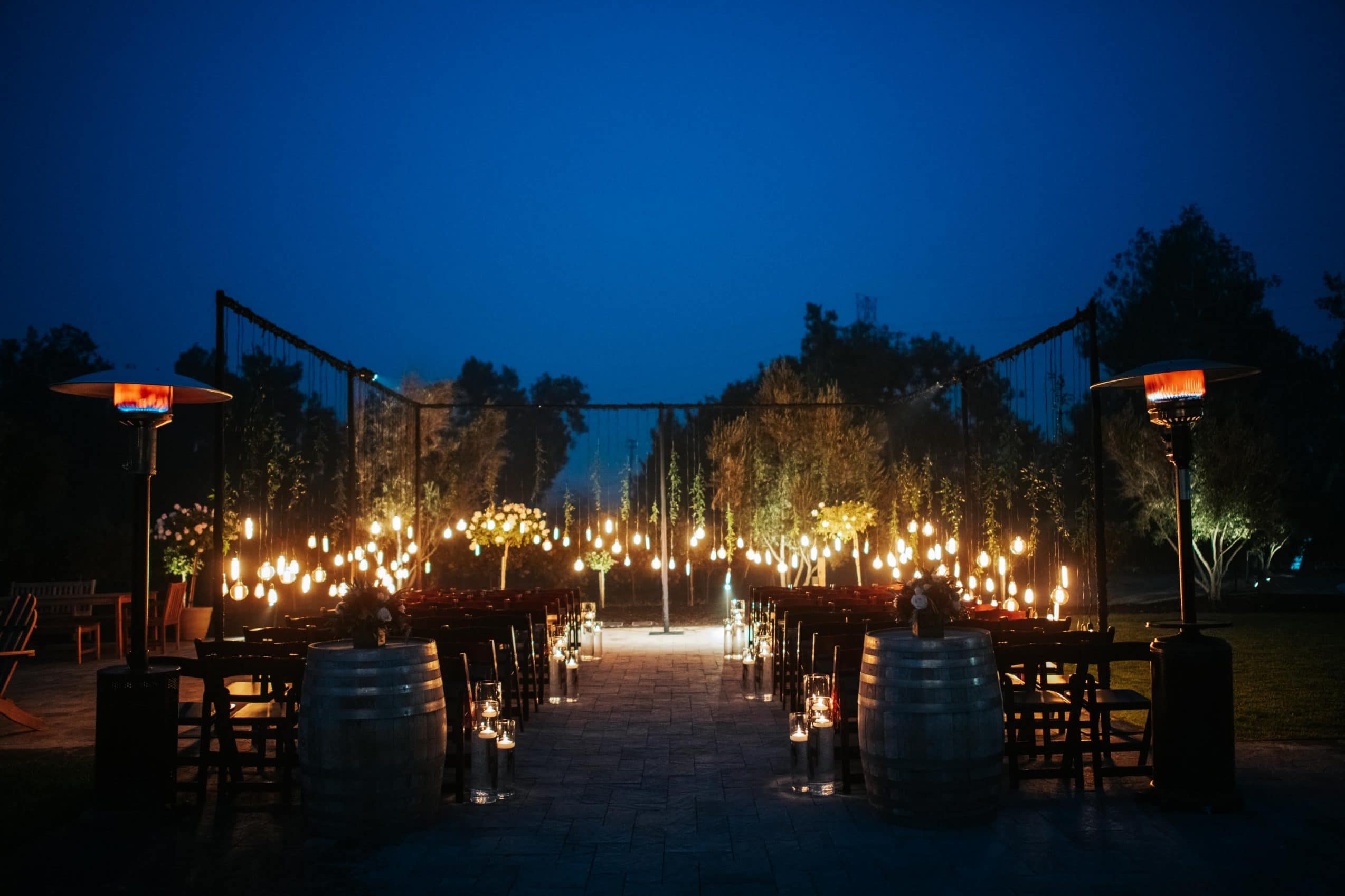 Outdoor Events: Pros
2020 has undoubtedly changed the way we do many things, like picking a venue. A major perk of outdoor weddings is that they are lower-risk due to the open-air setting.  Social distancing is easier to manage when you have acres of real estate with an uncompromised view of the altar!  
However, there are many other reasons to celebrate love in the great outdoors.  Imagine a backdrop of lush greenery, mountains, or ocean waves kissing the sand as you say, "I do!"  Plus, the decor can be simple!  Verdant green fields complemented by floral-filled gardens or the contrast of blue water against soft sand can serve as decor that complements your big day.  Natural beauty wins!  
Psst, don't forget about natural lighting — it is unmatched for stunning wedding photos!  Or, plan for the perfect sunset picture with your partner that is bar none. Cue the heart eyes!   
Outdoor Events: Cons
Mother Nature, as beautiful as she is, is an untameable force.  Your beautiful, natural backdrop comes with a chance of rain or strong winds that can ruin hairstyles, cause wardrobe malfunctions, or compromise the venue decor.  Heat, humidity, pollen, or creepy crawler friends can also bring some discomfort to you and your guest.
Outdoor venues also require more contingency plans. Consider these questions before selecting your outdoor venue:
Where do you and your guests go if it rains?  
Is there a cost to the "plan B" location?  
Can guests wear heels?  
Will your centerpiece hold against strong gusts of winds?  
How well will your buttercream wedding cake hold against the heat?  
Will your caterers be able to keep the food at the right temperature?  
Are there any permits or restrictions (including noise ordinances) that are required?  
Is there enough power for entertainment equipment?   
Will you need to rent canopies, tables, chairs, and linens, flatware to place the sound system and possibly portable restrooms and generators?  
As you can see, there is a lot to think about when celebrating in the great outdoors. But, for most who choose outdoor venues, being one with nature is well worth the extra considerations!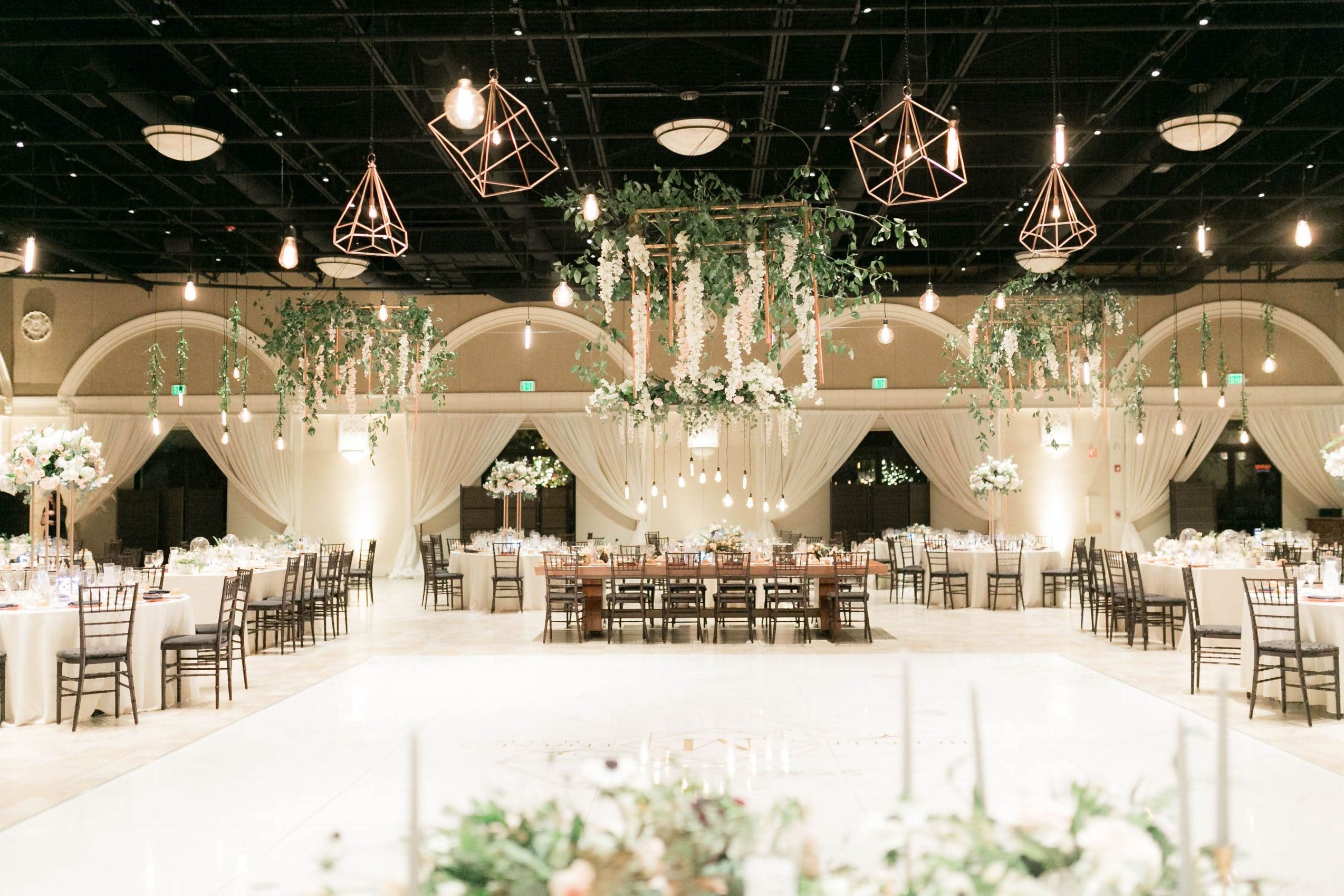 Indoor Events: Pros
Undeniably, the best thing about an indoor wedding venue is CONTROL.  There is a sense of confidence knowing that weather will not be as big of an issue with indoor wedding venues.  There is freedom when climate control is a guarantee!  
Logistics will be easier for the guests, caterers, coordinators, and the army of event pros that'll make your wedding dreams come true.  Most venues provide the basics of tables, chairs, and even linens. Still, at a bare minimum, you can rest assured that the venue comes fully equipped with power outlets, bathrooms, and a kitchen area — features that you won't typically find outdoors. 
Indoor venues also tend to be more handicap accessible.  Whatever cake you choose, the frosting will hold up — so go for the buttercream icing!  Plus, you don't have to worry about whether food will be stored at the proper temperature. Get fancy and serve that charcuterie board, confidently knowing that it will hold up throughout your entire event! 
Indoor Events: Cons
Keep in mind, though, that indoor venues come with their own set of nuances.  There are possible decor restrictions. Maybe the rustic, candlelit look cannot be fully executed because your barn venue doesn't allow fire due to the hazard. Other venues may not let you hang anything from the ceilings, so you will need to adhere and work around their established look.
You will also need to consider if the venue holds your number of guests.  With limited space available, cutting down the guest list can get hard.  Do your guests get a good view from any place that they are sitting?  Will artificial lighting be used?  Lighting for the perfect photos can be a challenge, especially if the venue is dim and there are not enough windows to let the natural lighting in. Fortunately, you can book a lighting company to come in and solve that problem!  
Ultimately, it is your big day and what you envision is what matters most.  With every decision, make sure to weigh out your pros and cons — all the details matter, from the season to the time of the day.  Before signing on the dotted line, read all the details and fine print.  Ask all the questions — they are never in vain!