Wedding Day Timeline
All of your plans are set in place and your big day is a night's sleep away – it's time to craft your game plan for your wedding day to ensure everything runs seamlessly! Note that the exact timing of the day really depends on the start time for your ceremony, as well as many other factors, but we'll go through a basic rundown of the order of what needs to be done.
First and foremost, get the coffee ready the night before because you'll want to get up early (and you will need the caffeine throughout the day!). The first step of the day is to get hair and makeup done and it's best to aim to do this around 8 or 9 am, whether it's at a salon or in a bridal suite. Again, this depends on the ceremony time, as well as the number in the party. If there are just a few, you can most likely push back the appointment, but if you are travelling with a large party, you'll need to be sure there is time to get everyone prepared (or maybe double up on the hair stylists!). Grooms and groomsmen can grab a few more Z's, as they don't take quite as long to get ready.
Starting early in the morning allows for enough time to have lunch with your party, as well as get to the ceremony site on time to get dressed and take group pictures before the wedding proceedings begin. This is around the time you would fit in a "first look," if you and your partner plan to do so. When all is said and done, it should be nearing the time of the ceremony and your day-of coordinator (even if it's just a mom!) should get the party organized and ready for the processional.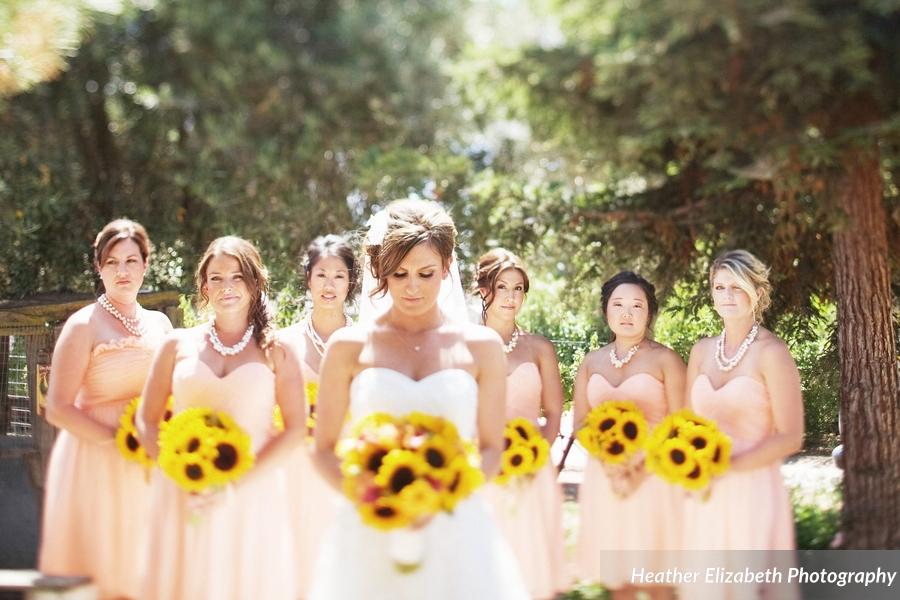 Fast forward through the ceremony and it's time for pictures again! Group portraits are taken directly after the ceremony, while guests make their way to the reception venue to enjoy cocktail hour. From pictures, the wedding party either goes to the limo (if travelling to another location for the reception) or joins the party in the grand entrance. Generally, after the entrance, the newlyweds join each other on the floor for their first dance, as well as family dances. However, dances can be done after dinner, as well.
After the first dances, food is served, whether it's a plated dinner, a buffet, or heavy hors d'oeuvres. Guests will need their energy when it comes time to hit the dance floor! Toasts are generally given while the guests are eating.
When dinner is finished, it's time to party! The music starts and the dance floor opens to all who want to groove. Amidst the partying, this is the time for cake cutting, the garter toss, and the bouquet toss, should you choose to include them in your wedding. The rest of the night is dedicated to fun with your closest family and friends. You're done – it's time to enjoy the fruits of married life and have a blast!
As we stated earlier, much of the wedding day timeline is dependent on the specific details of your wedding day. Some couples choose to include certain parts, while others do not. This outline is just a general idea to follow as you plan your big day. However it's timed, your day will be perfect because it will end with a ring on your finger and love in your heart!
Proudly serving Bay Area Weddings for over twenty years, Fantasy Sound aims to be engaged couples' first stop- offering Disc Jockey, Videography, Event Lighting Décor and Wedding Planning services. They are fueled by great ideas paired with strong coffee, and will never turn down a piece of red velvet wedding cake.